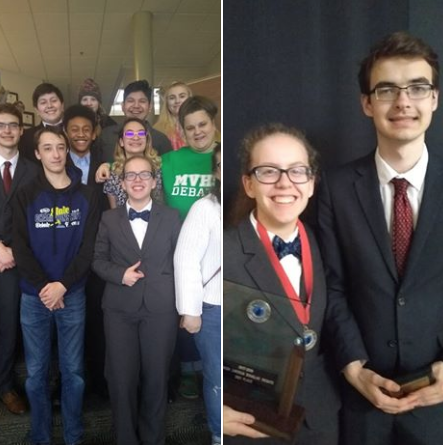 This past weekend was the WIAA State Debate Championships at Gonzaga University in Spokane!  Here are the results for the MVHS Debate Team:
Senior Emily Klein ended her 3 years on the team with a 2nd place finish in Lincoln Douglas Debate.   She entered the final rounds of the tournament as the top seed, going 6-0 in preliminary rounds, debating Resolved: The United States ought to provide a universal basic income.   Additionally, Emily won the Top Lincoln Douglas Speaker Award!
Also competing in Lincoln Douglas debate was junior Grayson Parker, who had a 2-4 record this tournament.  This is not the record we were expecting, but he is dedicated to qualifying for State next year to improve on this performance.
Junior Matthew Jurenka placed 7th in Congressional Debate!   This year's Congressional Debate field was extremely competitive-- Matthew spent over 12 hours debating things like: A Resolution to Ratify the Law of the Sea Treaty,  A Bill to Sanction the Government of Pakistan,  A Resolution to Ratify the Paris Climate Accords, A Resolution to Amend the Constitution to Abolish the Electoral College, and more.  Placing in the top 10 was a remarkable accomplishment this season.  Also competing in Congressional Debate at this tournament was junior Quincy Nzokah.
Finally, our policy debate team, composed of freshmen Ausha Macias Curry and Alexa Grechishkin, the youngest competitors in the policy tournament, had an amazing first experience at State... Their first round was against the team that eventually won the tournament!   Being freshmen, no one really expected them to win any rounds-- but they impressed all of the coaches by pulling off a 2-4 record!
Thank you for your support!